This undated report brings us news of a special birthday:
"Today (Thursday) Mrs Joanna Driscoll, residing at Whitehall Road, Great Bridge, celebrated her 100th birthday.
"Mrs Driscoll is in very poor circumstances with her son, Patrick Driscoll, who is 70 years of age, in a small tenement in Whitehall Road. Considering her age Mrs Driscoll is a remarkable woman.
"She is exceedingly active, being able to go to market and to cater and look after her son.
"The old lady however suffers from lapses of memory and can recollect only a few of the incidents that have happened during her long life.
"She remembers some of the things that occurred during her early life, particularly the potato famine in Ireland to which her husband, who was a well-to-do farmer, was a victim; but other things are a blank to her.
"Mrs Driscoll was born in the parish of Lisley, County Cork, on the 1st of March 1806 and she subsequently lived for over 50 years at Woodcroft in the parish of Tidnam, near Chepstow.
"She afterwards went to reside at Cheltenham where her husband died at the age of 87. She and her son came to live at Great Bridge 16 years ago.
"Mrs Driscoll has had seven children (four of whom are still living) the collective age of these being 391 years. She is a Roman Catholic and has one son, an octogenarian, in Australia, and another one in America.
Horse case solicitor walks free: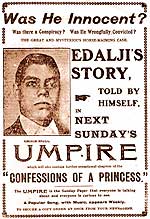 On October 16 Birmingham solicitor George Edjali was released from Portland Prison four years after being jailed for killing an mutilating a horse.

Edjali's family, including his father the Vicar of Great Wyrley, announced a campaign to establish his innocence.

Edjali was convicted after a week-long trial at Stafford crown court in which a handwriting expert declared that threatening letters, sent by the supposed Wyrley Gang claiming responsibility for a series of horrific killings of cattle and horses, were in Edjali's hand.

Following an appeal four years of Edjali's seven-year sentence were commuted.

Wolves go down! Wolverhampton Wanderers were relegated from division one of the Football League as Bury won 2-1 at home to Bolton Wanderers.

Wolves could only draw 2-2 against FA Cup finalists Everton before an 8,000 crowd at Goodison Park.

Wolves finished the season bottom with 23 points from 38 matches.

Comic pays fine: In June top comedian Arthur Roberts gave evidence before a stipendiary magistrate at Wolverhampton police court where his chauffeur George Carpenter was charged with being drunk in charge of a motor car.

A police officer reported finding Roberts' car outside the Victoria Hotel. When he asked Carpenter to get out he found he was drunk and took him to the police station.

Roberts told the stipendiary that Carpenter had been in his employ for only a week and had driven him from Southampton to Wolverhampton where he was to appear at the new Wolverhampton Hippodrome.

The fine of 40 shillings was paid by the comedian.

"Professor" Richard was jailed for 12 months at Stafford Assizes in July after he was convicted of defrauding patients in Wolverhampton with his medical electricity treatments.

Alfred Edward Richard, aged 60, denied obtaining money by false pretences, but was found guilty by a jury after a three-day trial.

The professor used an electric chair or a coil to treat patients with a variety of illnesses.

He claimed to have a letter from Queen Victoria praising his work. But the prosecution case was that he was a quack whose electric treatments did nothing to help patients.

Mr Justice Bigham, who tested a witness's eyesight during the trial, told the professor he wascheating poor people out of money they could ill afford. The professor had a seizure in court once he had been sentenced.

Valiant Sam beaten by the pigeon test: Samuel Moore, of Wolverhampton, ended up in hospital in September after he accepted the "pigeon test" of eating 14 cooked pigeons over the space of a fortnight.

Moore, described as "a valiant trencherman" whose custom was to eat enough for three men at a single meal, was challenged by regulars at the Duke pub.

Day after day he ate a pigeon before his dinner and they appeared to make no impression on his cast-iron stomach.

When asked how he was he replied "peckish" but on the 14th day he had a worried expression as he polished off the last pigeon and then loudly called for tripe and pigs' feet and then devoured them.

Just as the gastronomical hero was receiving congratulations he gave a groan and turned black in the face and collapsed from his chair.

Doctors were force to use a stomach pump to relieve his agony.

Tropical times . . . The highest temperature for 10 years - 90.4 degrees Fahrenheit in the shade - was recorded at West Park, Wolverhampton on September 1, as the West Midlands was gripped by a heat wave.

Wolverhampton Wanderers beat Hull City 1-0 at Molineux in their opening game in division two played in conditions described as "tropical".

Several Wolverhampton cyclists collapsed in the heat.

And at a local football match in Wolverhampton players became firemen as the boards around the ground caught fire.

Pankhurst vows to carry on: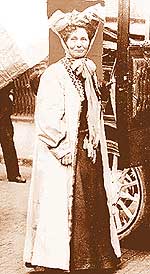 Suffragette leader Mrs Emmeline Pankhurst was interviewed in the Express & Star in October while staying at the home of a Mrs Sproson in Hordern Road, Wolverhampton.

She was described as "a quiet, tastefully-dressed woman" and a "brilliant pleader for her sex".

Asked if she would continue the struggle for the vote for women she said: "We are going on. We think we have done a great many good things."

Mrs Pankhurst pledged that the suffragettes would contest any future Parliamentary by-election in Wolverhampton.