It was an age when thousands of children perished from incurable diseases. In his unpublished memoirs, The Rain Must Fall, a Great Wyrley miner, Benjamin Edward Walker (1899-1983), described harrowingly how diphtheria claimed three of his young sisters in a matter of days: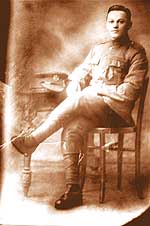 "During the early part of 1907 both Pam and Poppy became very ill with sore throats and could hardly swallow. My parents became very concerned about them so my father went to fetch the Doctor in his horse and trap. The doctor diagnosed diphtheria and told my mother that it was essential that the other children should be sent away from the infection right away. Therefore Caroline, May and I were packed off to stay with our grandfather at Hatherton. Mary who was still being breast fed had to stay with mother who was required to look after both Pam and Poppy who were both very ill.

In spite of my mother's and Betty's round the clock nursing, poor Pam died a week later followed by Poppy the day after.

My father came over to Hatherton to tell us the dreadful news that the funeral had been arranged for later that week.

He also told my grandfather Benny that my mother was in a state of deep shock and had been confined to bed by the doctor but worse still it was feared that Mary the baby had also caught the dreaded diphtheria. The doctor was hoping she would pull through but did not hold out much hope.

The twins funeral took place at Great Wyrley Church attended by the family mourners and friends. Grandfather Benny went but Caroline May and I stayed at Hatherton with Mrs Cope the housekeeper. Betty with some local help had prepared some food for the mourners after the funeral when they returned to the house. My mother, although still in shock had insisted in getting up from her bed and attending the funeral, leaving baby Mary in Betty's tender care.

After the funeral the mourners returned to Jacob's Hall. Betty had been anxiously looking through the window up Jacob's Lane for the return of my parents and when they turned into the drive she ran out screaming, "Ted, Mary come quickly, I think the poor little soul has gone. She is lying so still and I cannot get any response from her".

My father just bounded down from the trap and dashed into the house. A few minutes later he came out and embraced my mother. In between sobs he said "It's no use my love, she is dead, whatever have we done to deserve this? We must have a curse on us".

There was no answer from my mother she had just collapsed into a dead faint. My father picked her up and carried her into the house and upstairs into bed. One of their friends dashed off in his horse and trap to fetch the doctor, who came straight away, but he could only confirm that little Mary was dead. He also of course attended to my mother but apart from giving her something to make her sleep he couldn't do much for her. As he said "Time alone is the only cure for her".

The ritual of another sad funeral had to be faced with all its trauma, and little Mary was buried in the same grave as her sisters Pamela and Poppy.

More dark deeds in Great Wyrley: Two horses were found mutilated in a field at Warwell Lane, Great Wyrley in August, just months after the son of the Vicar of Great Wyrley, George Edalji, who had been jailed for seven years for maiming a horse in the area, was given a full pardon.

The famous author of the Sherlock Holmes novels Sir Arthur Conan Doyle, who had been a campaigner for Edalji to be freed, claimed that he knew the true identity of the man responsible for a series of attacks on cattle and horses in the area over a number of years.

Great Wyrley became the focus of national attention as the police came under pressure to catch the horse killer. On September 5 butcher Hollis Morgan, 23, was arrested in Wolverhampton and charged with the latest crimes.

The case against him was discharged by Penkridge magistrates who said that Morgan's foolish statements had brought about the charge and there was no evidence against him.

A bit of a curiosity: On Wednesday an unmistakable native of the Black Country strolled in to the Express & Star office and intimated to the sporting editor he had brought with him "a bit of a curiosity".

There was considerable chirping as he visitor put his left hand in to a capacious coat pocket and produced therefrom a bird which, on examination, proved to be a chicken about a fortnight old.

It is one a hatch of seven, and its peculiarity consists of the fact that it has four legs.

It is a healthy-looking chick and at one took a violent dislike to its new surrounding, so much that its owner, fearing that the atmosphere of the sub-editorial department would be too much for his novelty, quickly transferred the chicken to his pocket and beat a hasty retreat.

Support for protest women: In February, Mrs Emma Sproson, of Wolverhampton, was among 61 women arrested as more than 700 suffragettes made two vain attempts to force entry to the Houses of Parliament.

Mounted police were called out to deal with the riot. Mrs Sproson was jailed for two weeks, but was buoyed during her stay in Holloway Gaol by letters of sympathy from friends in the town.

A brass band played outside the prison on February 27 as she and 28 other suffragettes were released.

Mrs Sproson and another Wolverhampton suffragette Mrs Elizabeth Price, were arrested in a further raid on the House of Commons on March 18.

Drowning tragedy: In June three Stourbridge holidaymakers drowned in the sea at Blackpool. Keen photographer Dolly Gillam, aged 24, of Worcester Street, had walked down steps to the North Shore to get a snapshot of the rough sea. Her brother James, 22, and fiance Ernest Taylor, 27, of Highclere, Norton, were horrified to see her swept away by a heavy wave and both went into the water after her. They reached her but were unable to swim to safety and all three perished in the waves.