In April Wolves won the FA Cup for the first time in 15 years when they beat Newcastle United 3-1 at Crystal Palace.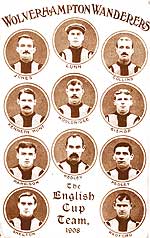 Goals from Hunt and Hedley put Wolves 2-0 up at half-time and Harrison scored the third goal for the team then lying a lowly 10th in the Second Division.

Pictured right are the victorious Wanderers team who, led by skipper Wooldridge, were given a civic welcome when they arrived back at Wolverhampton's high level railway station.

The reception was followed by a triumphant parade through the town.

Bewdley MP dies: Bewdley MP Alfred Baldwin, chairman of the Great Western Railway Company, died in February aged 66 at his London home.

The Stourport-born Unionist MP had represented the Worcestershire town since 1892 and lived with his Wolverhampton-born wife Louisa at the village of Wilden.

His son Stanley Baldwin, later to be a Tory prime minister, was expected to be nominated to succeed him.

He had previously stood unsuccessfully for the Unionists in Kidderminster in the 1906 General Election.

Two are killed in fall from chimney: Steeplejacks Thomas Prendergast and John Shea fell to their deaths in July from a 97ft chimney stack at R Speake and Sons, Tower Street, Wolverhampton.

The pair had been contracted for 10 to take down two stacks at the company.

The pair had climbed to the top of one of the stacks by ladder when part of the brick work gave way.

Beware bike thieves! Cyclists were warned in June to be on their guard against thieves after 23 cases of bike thefts in Wolverhampton.

The latest victim was solicitor and councillor H Beresford-Jones whose brand new 16 Sunbeam is stolen from a passageway at his chambers in Lichfield Street.

Many lives lost down pits: The dangers of life in the pits were demonstrated by two colliery accidents in quick succession.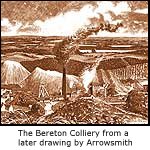 On February 15 two men and a boy and six ponies died when water floods the Coppice Pit at Brereton, Rugeley.

Then, on March 4 an underground fire at Hamstead Colliery, Great Barr, claimed the lives of 25 miners.

A few men escaped but the others and 100 horses and ponies were trapped underground in the five miles of workings.

The fire started 600 yards down at the bottom of No 1 shaft.

Yorkshire mine rescue experts were called in to help with the attempt to find the entombed men.

The bodies of six are eventually found next to a board on which they had chalked the final message: "Lord Preserve Us".

Chubb to open new factory: Chubb and Sons Lock and Safe Co Ltd announced plans in January to build a new works on 10 acres of land off Wednesfield Road, Wolverhampton.

The site, close to the town's two railway stations, had been bought from Sir Richard Paget to manufacture burglar and fire resistant safes and bankers' treasuries.

Earl heads down under: The Earl of Dudley, newly appointed as Governor General of Australia was given a send-off banquet at his ancient ancestral home of Dudley Castle in June.

The banquet ended three day of celebrations at the annual Castle Fetes.

The following day the earl was made a member of the Order of St Michael and St George by King Edward VII.

In September The Countess of Dudley laid the foundation stone for a new teacher training college for Dudley on an eight-acre site near King Edward Street which cost 8,000.

The new college was able to accommodate 100 non-resident students.

A rise, Sir Henry: Wolverhampton east MP since 1885 and Chancellor of the Duchy of Lancaster, Sir Henry Fowler, aged 78, was elevated to the peerage in new Liberal prime minister Herbert Asquith's April reshuffle.

It followed the resignation of former premier Sir Henry Campbell-Bannerman.

In a by-election on May 5 Liberal candidate Alderman George Thorne beats his Unionist rival L S Amery by just eight votes.