Aviation Week opened at Dunstall Park, Wolverhampton in July. On the first day alone 20,000 spectators turned up the see the new-fangled flying machines.
Only seven years earlier the Wright Brothers had made the first powered flight but already the advance of technology was dazzling.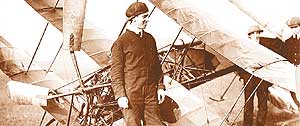 Wolverhampton's inclement weather may have prevented any serious flying but the competitors amused the crowds by competing for the shortest "get off."

The town's bid for aeronautical fame was taking shape during the year in the form of the Accles & Pollock Mayfly.

The Mayfly (top), the world's first all-metal aircraft, was taken from its Oldbury factory to the Dunstall Park race course for its first trials in 1911. But its twin 65hp engines would not work together and, after three weeks the attempt was abandoned.

The perils of early flight are captured in a contemporary snap of the legendary Alliot Verdon Roe, standing beside the wreckage of one of his earlier models.

People in the picture: All too often in the early days of photography, streets seem deserted.

That's probably because photographers deliberately chose quiet times of day. Photo exposures were long and the tell-tale blur of pedestrians spoiled the snap.

But by 1910 the art was sufficiently advanced for this image of Wolverhampton's open air market to be captured for posterity.

With few proper tables, most stall holders imply lay out their wares on the ground for the inspection of hundreds of curious Wulfrunians.

The old market building on the right was demolished in the 1960s to make way for the Civic Centre complex.

Saddlers' high hopes end in disappointment: Walsall FC players, directors and staff are pictured in the 1909-10 season. During 1910 the Saddlers had high hopes of winning the Birmingham League.

And why not? After all, they had reached their highest-ever position, fifth, the previous year and went on to hammer Wolves Reserves 7-3. But while the team triumphed at away games, it was a run of poor home results that scuppered their 1910 hopes.
They lost four and drew five of their games at their Hillary Street ground and had to settle for third place in the league.