A hungry mother and daughter resorted to stealing boots from outside shop doors to buy food, Dudley police court was told in January. The woman was charged with stealing and the court heard that one pair of the stolen boots were handed over at a pawnshop and the money received used to buy bread.

An inspector told the court the woman said she had had a hard time with her husband, a chainmaker, because of his drinking.

The husband, who stood by his wife in court, said that he had not been drunk since Christmas - and had not beaten his wife for a whole year.

The court was told that there were chainmakers, some earning as much as 6 or 7 a week, who had ended up in the workhouse through drink.

The magistrate advised the husband to become an "abstainer" and warned him that if the NSPCC were to see his children he would probably end up in court on a serious charge.

Both parents were bound over to keep the peace for a year and the magistrate added that "temptation was needlessly placed in the way of poor people by tradesman hanging goods outside their shops."

Court battle continues: Passengers on a tramcar travelling from Stourbridge to Dudley in June were treated to a demonstration of "ju-jitsu" by two angry women who had boarded the tram after appearing at Stourbridge county court as plaintiff and defendant.

Abusive language began to flow immediately after they got on the tram and it gradually developed into a "vocal battle."

The situation became more heated and the conductor tried to intervene, managing to stop any blows being exchanged. He also threatened to put the women off the tram if they didn't stop their disorderly behaviour.

Quiet reigned in the tram for a while but then the row started up again resulting in "chemical vapours being released at intervals."

On arriving an Brierley Hill, one of the women withdrew from her antagonist, thus "escaping facial decorations" in the threatened punch-up.

Bankruptcy blamed on trams: A Wolverhampton Hackney Carriage boss blamed his bankruptcy partly on the stiff competition from Wolverhampton Corporation trams. It was reported in January that an investigation of Mr Sampson Tharme's affairs showed a deficiency of 638.12s.

The debtor told the Official Receiver he started his business 30 years previously by buying a horse and cab for 20.

He later sold the horse and cab and bought a bus and three horses, thus launching the Penn bus which continued in service until the previous year. The bus brought in 12 a week and the debtor's average profit was 3 a week.

The Receiver heard that Mr Tharme's business grew and he was able to start Compton bus and cabs at the town's Low Level station. But when the trams started his business began to suffer and he got into debt. To add to his problems he had eight horses in quarantine at one stage and could only run one horse drawn bus.

Local man's top job abroad: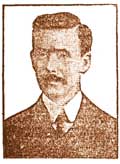 A career-minded Wolverhampton man leaped from a humble beginning in the engineering department of Stafford road-works to become trade commissioner for Canada in Newfoundland, and promoted to a similar position two years later in Cuba.

It was reported in April that John E Ray briefly returned to his small beginnings to see old friends and was welcomed for his openness and candour.

Mr Ray had attained his high position within 14 years, through his strength of character. In true-story-book style, Mr Ray was offered no future as an engineer at the age of 19 in Stafford and said he prayed to God that his life would not be a "failure."

He said his prayers were answered and after some hard study at the Midland Institute in English, History and Mathematics, in Birmingham, he achieved success in Canada.

Healthy baby 'starved': A healthy three week old baby died of starvation after a midwife said she did not believe in feeding babies cows milk - and that sterilised milk was even worse for them - the Wolverhampton coroner was told in January.

The coroner said the birth resulted in a beautiful healthy child, but the mother had been unable to breast feed it. The inquest heard that after rejecting cow's milk, the midwife ordered a proprietary baby food for the child.

The food had been recommended for mothers unable to suckle their children. The coroner said that in his opinion the child died of starvation due to improper feeding.