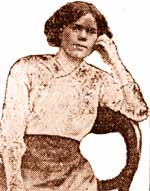 January 2. The niece of Joseph Chandler, (pictured right) who designed and built Dudley's Bumble Hole Castle, was found drowned in the canal at Windmill End, Netherton, locked in the arms of her sweetheart, Samuel Crew, who was believed to have also died trying to save her.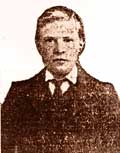 Miss Phyllis Chandler, aged 21, lived in Bumble Hole Road and her sweetheart, Mr Crew, (pictured left) also 21, lived in Church Road, Netherton. A third person involved in the tragedy who also drowned, was Miss Mary Ann Wells, aged 17, also of Bumble Hole Road.
The inquest into the tragedy heard that Miss Chandler was the main support of the home as her father was an invalid and was unable to work as a miner.
Miss Wells was the daughter of a local boatman, who had seven other children. The Dudley coroner heard that Miss Wells usually walked along the canalside to the railway station to catch a train to her work in Birmingham.
Miss Chandler had been due to return home on the night she died and Mr Crew told her mother he was going to meet her despite fog. She warned him about the fog but he replied that he knew the district too well to get into any danger. Neither Mr Crew nor Miss Chandler came back.
The inquest was told that a girl's hat was seen in the canal and a local labourer stuck a boat hook into the water and brought up the bodies of the two sweethearts - "locked together".
From the position it ws believed Mr Crew was trying to save the girl. Two yards away he found the body of the other girl.
The foreman of the inquest jury described the area where the bodies were found as a "deathtrap". A verdict of "found drowned" was returned.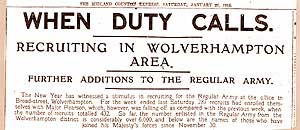 From the Midland Counties Express of Saturday, January 23, 1915. A further call to arms for the Midlands' young men.


" We are all fed up with it . . . but it cannot last forever . . ." A young Wolverhampton soldier who enlisted under age and was eventually mortally wounded in the Persian Gulf sent the following letter to his mum from the trenches in September while fighting in France.

"Dear Mother, Just a line hoping I find all of you in the best of health as it leaves me and my pal Ben Cooper. No doubt you have read about the success there has been out here. But I am sorry to say that a lot of the boys from Darlaston who enlisted about the same time I did in the HLI (Highland Light Infantry) have been killed or wounded. But it is to be expected as you cannot get through without having some loss. But the German losses have been far greater than ours. I think the hard weather has set in as we have had some terrible weather these last few days and we have known about it. "We have been in some trenches what has had no dugouts in, so there was no chance to get out of it. Only having a waterproof sheet over us is bad enough. Now I don't know how the winter will be. We shall know about it then. I hope Annie (presumably a sister) has got quite well from her illness and father is keeping at work and going on alright. I expect May and Bill are going on alright and Evelyn doing well at her place. Tell Jess I hope he is doing well. I have another parcel from the work. It come yesterday. I was surprised so soon after the other. It is only three weeks since they sent the other. But I dare say it is the chaps from the Noaks Ark at Bedworth sending 4 shillings to work for me. I wish it was over. We are all fed up with it I can tell you. But it cannot last for ever as they are having some nasty knocks as well. That's what the papers say and it seems to be good news all round. I think this is all till I write again so I close now with the best of love and good wishes to all of you. Frank."

Private Frank Jeavons was buried in Amara Cemetery in Iraq at the tender age of 18.

DIY fashion to the fore on home front In the grim days of the war do-it-yourself fashion appeared to have taken a front seat.

The Wolverhampton-based Midland Counties Express gave hints on home dressmaking in May, pointing out that the necessities of life may be rising in price but materials had not .

They suggested the latest pattern for a house gown for spring wear with an umbrella skirt. Another pattern offered "comfortable matronly knickers" intended for the woman of "generous proportions".

The special design was aiming at comfort and "roominess"