The political event of the year in the Black Country was the Prime Minister Ramsey Macdonald's whistle-stop tour of the region in October.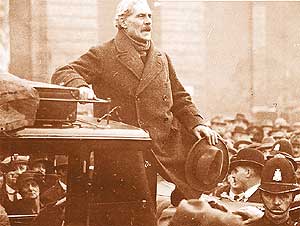 Ramsey Macdonald addresses the crowd in the Market Place

His spin-doctors had tailored his speeches for local audiences.
In Cannock, the PM declared that the will of ordinary working people would triumph over the rich and powerful: "Coal owners and all others can put up a Liberal or a Tory candidate, but Labour will be returned to the House of Commons."
At Wolverhampton he told a huge crowd in the Market Place: "We have already knocked the other two parties into the same camp. I ask you to return to Wolverhampton a solid body of Labour men."
Salvage at Scapa Flow : When Germany surrendered in 1918, her Grand Fleet was impounded at the British base at Scapa Flow.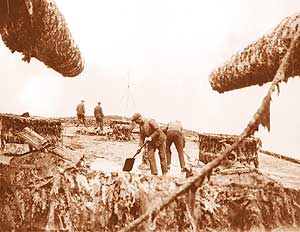 Workers from the Cox salvage team cleaning the decks of the German battle cruiser Hindenburg. The ship had been raised twice before, only to sink.

But in a dramatic final act of defiance in July 1919, Admiral Von Reuter gave the order for the fleet to be scuttled. Crews opened the underwater valves and 74 German warships settled majestically on the sea bed.

It was a disaster for the Royal Navy but in 1924 it became a huge business opportunity for a former Wolverhampton errand boy, Ernest Cox.

Cox, who left the town's Dudley Road Free School aged 13, built up his own scrap metal business Cox & Danks Ltd of Oldbury.

In 1922 he bought a floating dock, planning to reduce it to scrap. But he had second thoughts. He put in a top-secret bid to buy the sunken German fleet from the Admiralty and set about raising it.

He started work in March 1924 and the vast task took eight years. He raised two battleships, four battle cruisers, one light cruiser and 25 destroyers by pumping compressed air into the hulls.

His first ship took ten days to raise but before long, as one observer recorded, "he fished up ships almost as easily as an angler winds in salmon.

Ernest Cox's story was told in the aptly named book, The Man Who Bought a Navy. Ironically, his most spectacular business venture left him with a 10,000 loss but his business interests in dry land were big enough for him comfortably to write off the Scapa Flow salvage.

Ernest Cox retired in 1950 and died in 1959.

Fire threatens Furnace Parade: In January 20 houses in Tipton were menaced by an underground fire creeping towards Furnace Parade, which had been first spotted six weeks earlier.

In the finest municipal tradition, the local council promptly washed its hands of any responsibility.

"It is nothing to do with the council at all," insisted the chairman, Councillor W W Doughty.

When a fellow councillor likened him to Nero, fiddling while Rome burned, an unashamed Coun. Doughty retorted: "And Rome did a good thing by burning. If I could improve Tipton, I wouldn't mind if a few more places were burned down."

In fact, the council's own surveyor was already involved in drawing up a scheme to "dam" the fires with walls of sand, although the flames had already destroyed three of the houses.

Local experts pointed out that underground fires, usually in long-abandoned mines, had long been a common feature of Black Country life.

As long ago as 1834, White's History of Staffordshire described "a very extraordinary phenomenon called a pseudo volcano, or wildfire" which had been burning underground at Bradley Moor, Bilston, for the past 50 years.

A coal seam 30 feet below ground had ignited and continued to burn, fed by air on the old worked-out seam beneath. In the course of half a century it had reduced six acres on the surface to "a mere calx."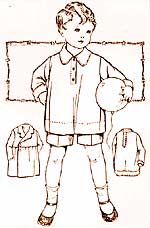 Quite how today's toddlers would react to this smock-and-knickers outfit is anyone's guess but in the Spring of 1924 it was the last word for doting parents. The recommended colours were green, brown and navy blue. But certainly not red. As the fashion editor remarked on the same page, red was rapidly becoming a popular colour. "I wonder if it is the result of a Socialist government," she mused.