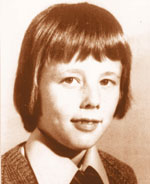 Paperboy Carl Bridgewater was shot in the head at point-blank range after disturbing thieves raiding an isolated farmhouse.

He died instantly from the shotgun blast in the living room at Yew Tree Farm, Prestwood, near Stourbridge.

There was no sign of a struggle and the police chief leading the murder hunt called it a "completely cold-blooded killing".

The 13-year-old was found dead by a friend of the elderly couple at the farm, who were out for the day.

Carl, of Ascot Gardens, Wordsley, was near the end of his evening paper round when he was shot.

His father Brian said he was late on his round because he had been to the dentist.

He normally slipped a copy of the Express & Star just inside the hallway and had two more papers to deliver after the farm.

Dossier of violence against blacks: A dossier of alleged violence against black people in Wolverhampton was handed to West Midlands Police.

It included several allegations of arson, threatening letters, window smashing and beatings.

The report, by the Wolverhampton Anti-Racist Committee, followed an outbreak of violence in the town.

Chief Constable Philip Knights attended a stormy meeting in Wolverhampton involving claims of police brutality and violence by whites on members of the black community.

Sandwell stars a real knockout! Super Sandwell was the toast of Europe after a powerhouse performance that shattered the six-nation It's A Knockout opposition in Yugoslavia.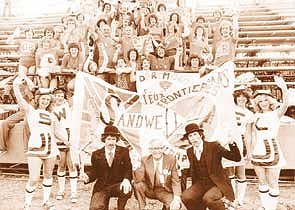 Supporters and team massed before their triumph in
Yugoslavia. To the fore are Kelvin Dawson, mayor councillor Cyril Farmer and publicity manager Tony Stephens.

And the Midlanders did not just win, they pulverised the Continentals with the highest score by a British side in seven years.

The team cried, delirious supporters lifted captain Geoff Bennett aloft with the winners' trophy, while mayor, Councillor Cyril Farmer, danced a lap of joy around the stadium.

More than 3,000 Yugoslavians had failed to match the vocal backing of the Black Country's cheerleaders - in the end most gave up and joined in the "Sandwell" chant as their infectious fanaticism spread.

Councillor Farmer refused to join other dignitaries in special seats reserved for them, staying the middle of the swaying Sandwell fans with mayoress Councillor Linda King.

Supporters and team massed before their triumph in Yugoslavia. To the fore are Kelvin Dawson, mayor Councillor Cyril Farmer and publicity manager Tony Stephens

Gunman kills five before crashing in chase: A gunman ran amok in West Bromwich in October, leaving three people dead before killing a two more at a filling station in Nuneaton, Warwickshire.

He was arrested in Derbyshire after crashing into a police vehicle in Buxton following a 100mph chase.

Barry Williams was sentenced in 1979 to indefinite detention in Broadmoor.

He served 15 years, but there was outrage when he was released to live in a Birmingham hostel just six miles from Andrew Road, West Bromwich.

For it was there he had shot dead George and Iris Burkitt and their son Phillip.

He also shot and wounded the Burkitts' daughter Jill and neighbour Judy Chambers before going on the run and killing Mr Michele di Maria and his wife Lisa in Nuneaton.

Williams, of Andrew Road, West Bromwich, admitted five charges of manslaughter on the grounds of diminished responsibility.

Thanks, but no: Former Crossroads star Edward Clayton, from Eccleshall in Staffordshire, who played Stan Harvey, refused the chance to return to the Midlands-based soap opera.