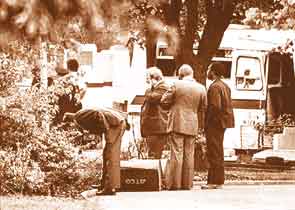 The scene at the cemetery following the discovery of the body.

A young boy was found murdered among the gravestones in a Sandwell cemetery early in June after an all-night search for the 10-year-old.

Graham Timmins, disappeared the previous night after going out to play near his home in Barlow Road, Wednesbury.

The body was found by a gardener tending graves in the cemetery in Beebee Road, Wednebury.

A road through the middle was used as a short cut for children going between Beebee Road and Old Park School, and the Ten Acres playing fields.

The cemetery was only a few streets away from Graham's home. Police sealed off the area and set up an incident room at Wednesbury police station.

Graham was last seen playing with friends on waste ground near his home about 9pm. His parents called the police when he failed to return home.

The body was found following a search by police, tracker dogs and frogmen.

The boy's parents, Graham and Pat Timmins, had been helped by neighbours in an all-night search for their son.

Groups of stunned mothers, some weeping, gathered in Barlow Road as news of the murder spread. Children going home from a nearby school were quickly shepherded indoors.

One neighbour, Mrs Margaret Dunn, said: "Graham was such a cheerful, well-mannered little boy. He would run errands for anybody, goes to the shops for you, and always had time to stop and say a word."

The day after the body was found teenager, Leslie Taylor, aged 17, of Beebee Road, was accused of murdering Graham. Taylor later denied murder but admitted manslaughter and was jailed for four years after the prosecution accepted the plea.

Hereford crown court heard that Taylor strangled the 10-year-old after being "taunted" by his victim about a bald patch on his head.

Shot security guard buried: Hundreds of mourners lined the streets of Bilston for the funeral of shot security guard George Smith.

More than 500 family, colleagues and friends crammed into St Leonard's Church for the funeral service.

Earlier scores of wreaths arrived at the house on the Lunt Estate, Bilston he shared with his wife, Janet, daughter Lisa, nine and son David, four.

Six close friends from Securicor acted as pall bearers.

Mr Smith, aged 32, died during a wages raid on a Willenhall factory.

Final fever hits Wolverhampton: Wembley fever hit Wolverhampton in February following Wolves fighting win over Third Division Swindon, with fans jamming the Molineux switchboard for tickets for the following month's League Cup final against Nottingham Forest.

But the club appealed to supporters to wait a few days while ticket allocations and arrangements were made.

Meanwhile plans were afoot to charter a number of Wembley specials, via British Rail, for the big day.

After the 3-1 win against Swindon, the heroes of the match were given the day off. Two goal John Richards put his feet up and looked forward to the return to the twin towers at Wembley. He scored the winning goal that won Wolves the League Cup in 1974.

Wolves repeated the feat with a 1-0 victory over Forest.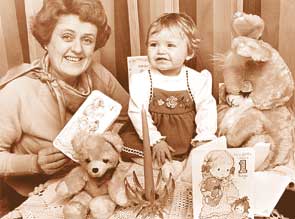 New Year baby shock for Gloria: A surprise baby arrived on New Year's Day for Sandwell mum, Gloria Palmer - for she didn't even know she was pregnant. Mrs Palmer, aged 41, who was being treated by her doctor for wind and heartburn, began complaining of pains in her stomach on the day before the birth. She was medically examined but still no one suspected a baby was on its way.

Shortly after the doctor left the baby suddenly arrived. "It was a tremendous shock and I could hardly believe it," said an incredulous Mrs Palmer.

Mother and baby - a girl weighing 5lb 12ozs named Dawn - were doing well at Sandwell District General Hospital.

The baby was born a month premature and was taken to hospital from Mrs Palmer's home in Elwell Street, West Bromwich. Husband, Jim, aged 49, and neighbour, Mrs Olive Wright, stared in disbelief as the baby was born.

Gloria and Dawn pictured just after Christmas in 1980 as Dawn prepared for her first birthday party

Mosley dies, 84: Fascist leader and former Smethwick MP Sir Oswald Mosley died at the age of 84. Sir Oswald was Labour MP for Smethwick from 1926 to 1931, the year before he founded the British Union of Fascists.

His extreme views led to his imprisonment during the Second World War and his "Blackshirts" became synonymous with Nazi Germany. During his fiery political career he was a Conservative MP, Independent MP and Labour minister.