A bomb exploded at the Birmingham headquarters of the Severn Trent Water Authority in January, shattering windows and blasting a hole in the roof.
An hour later a second bomb was found and defused at an industrial plant in Stratford-upon-Avon.
Police were alerted about both bombs after a telephone tip-off to the Guardian newspaper offices in London.
The midnight call came from a man claiming to be a member of the Welsh Army of Workers.
The Severn-Trent bomb was believed to be part of a campaign to get the water authority to pay more for water pumped from Welsh reservoirs to the Midlands.
The second bomb was found outside the main complex of the International Development Corporation on an industrial estate in Timothy's Bridge Road, Stratford.
IDC had only recently been in the news in connnection with plans to develop part of the Snowdonia National Park.
The Birmingham bomb exploded on the roof of a single-storey building adjoining the multi-storey office block in Coventry Road, Sheldon.
Within 30 minutes of the alarm Birmingham police had evacuated nearby shop flats and had sealed off the main road.
The bomb went off at the back of the offices, blasting a small hole in the roof of the single-storey outhouse and smashing windows in the main block, Ariel House. But no one was hurt.
Birmingham and the rest of the West Midlands get millions of gallons of water a year from reservoirs in the Elan Valley in Wales.
The bombing was condemned by the ex-president of Plaid Cymru, Gwynfor Evans. He said that although he strongly supported the call for England to pay more for Welsh water, he would never condone bombing.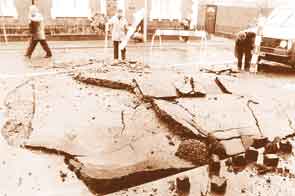 Thunderbolt leaves a 20ft crater: A Wolverhampton street looked like the aftermath of an Exocet missile attack after a thunderbolt smashed a 20ft wide crater in the highway. The road surface "exploded" as the bolt struck Larches Lane at the height of the worst thunderstorm to hit the West Midlands in more than 14 years. Eye-witness, Brian Atwall, of nearby Compton Road, rushed to his window after he heard a "terrible hissing sound." Mr Atwall said he saw steam pouring out of two manholes in the middle of the road. "Then there was this almighty explosion and the Tarmac just blasted out of the road. It looked like an Exocet missile had hit it," he added."

That's a new life for Bill: Express & Star reporter Bill Buckley scooped a top job with the BBC TV That's Life programme in July - thanks to a big build-up from his mum. Bill who worked from the newspaper's Oldbury Office, beat 5,000 hopefuls to get the plum post presenting what was one of TV's most popular shows.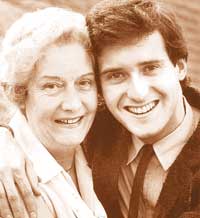 Bill Buckley with his mum Lydia

The 23-year-old, who lived in Birmingham, was on holiday in Australia when programme star Esther Rantzen, announced she was on the lookout for a new team of presenters. Mum, Mrs Lydia Buckley, spotted the request in a national newspaper and applied on her son's behalf without him knowing.
On his return home Bill found out and was later put on the shortlist for the job. "I was pleased to know my mother had thought of me but thought nothing more about it until I received a phone call asking me to attend an interview," he said. "It was the biggest shock of my life. It has always been my greatest ambition to work on television but I never dreamed I would get such a wonderful opportunity so soon," he went on, adding that he could never thank his mum enough.
She's just wild about Harry . . .: A dream came true for Audrey Morgan when she went to Wolverhampton's Civic Hall for a show in July. She found herself being taken backstage to meet her idol, comedian and singer Harry Secombe (pictured below).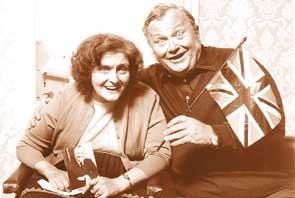 Audrey, who had suffered with multiple sclerosis for 30 years, had a front row seat at a concert starring the former "Goon".
And her big moment came later when she found herself chatting to her showbiz hero.
"It was such a thrill. Just out of this world," said Audrey, from Wednesfield. She confessed that it had always been her ambition to meet the star who was destined to receive a knighthood - and when she was told she would actually chat with him she thought it was a joke. "When I got there and saw him I thought I was dreaming," she said.
Audrey Morgan receives a hug from her hero, Harry Secombe.