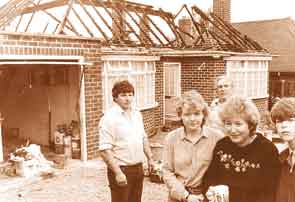 David and Linda Chinn are comforted after a lightening bolt damaged their Walsall bungalow
It was a bad year for weather . . . in July and later in September widespread flooding and gales lashed the West Midlands, damaging homes and bringing down trees.
Nationally at least five people were killed as fierce storms swept across Britain.
Gale force winds punched a 12ft hole in the gable end of a house in West Bromwich, roads in Walsall and Dudley were partly blocked by trees brought down in the storms.
A woman was hurt when a 10ft pole fell on her at the Birmingham Show where scores of marquees collapsed in the gales.
Homes were flooded in Wednesbury, Aston, Handsworth and Selly Oak, while in Wolverhampton more than an inch of rain fell.
Big gala controversy: It was revealed that dozens of people were turned away from an Andy Williams concert at the gala opening night at Wolverhampton's Grand Theatre in Nov ember because councillors and industrialists snapped up thousands of pounds worth of free tickets for a 25-a-head sell-out show.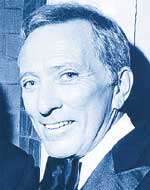 And later an irate Wolverhampton businessman, who paid out 750 for tickets for himself and guests demanded an assurance that the situation never arose again. "I was incensed to find that those guests who got in were seated all over the theatre because the first two rows of the circle were filled with councillors and others, who did not pay." he said.

Theatre manager, Colin Angus, admitted that a "few dozen" free tickets had been given away and that the show, featuring singing star, Williams, was "oversubscribed. "

The Grand Theatre Committee chairman, Councillor Dennis Turner, who did not attend the gala show, insisted it was a "one-off" situation and would not happen again.

Andy Williams pictured at the gala opening of The Grand which caused some consternation

Steve's just too light for the light infantry: The army set a weighty problem for would-be soldier Steve Jones in September - for at just over seven stone, he was told he might not even be heavy enough for the light infantry. So 16-year-old Steve, from Penn, Wolverhampton, went into battle with barbells and chest expanders to try to gain that extra stone which would help to qualify him as a junior soldier.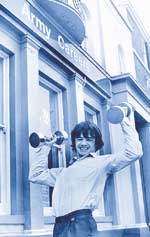 He even did some limbering up outside the recruiting office in Queen Street, Wol-verhampton.

"I have tried drinking gallons of milk and stuffing myself with food but I have only managed to put on a few pounds," moaned Steve.

The teenager's dad, Bill Jones, said his son used up so much energy he took off weight as fast as he put it on.

Steve Jones pumping iron in Queen Street

Claverley pilot dies in glider accident: A top West Midlands glider pilot was killed in April when his aircraft mysteriously plunged from the sky shortly after take-off from a Shropshire club. David Bailey, aged 20, was dragged from the wrecked aircraft at the Midland Gliding Club, Long Mynd, Church Stretton.

One of the youngest instructors ever to qualify in this country, Mr Bailey lived in Claverley, near Wolverhampton. His glider was being winched into the air and should have reached 1,000ft before being released from the cable. But the cable came away at 100ft and the glider dropped like a stone, killing Mr Bailey. A doctor at the scene declared him dead.

Keith Mansell, chairman of the club, said the towline cable did not break.

"The aircraft must have released the cable for some reason," he added. All flying at the club was halted as the British Aviation Authority and the British Gliding Association officials launched an investigation.

According to his family Mr Bailey, a technical sales engineer, had always dreamed of becoming an RAF pilot.

"He has been gliding with the club since he was 16 and when he was 19, he became the youngest instructor ever to qualify there," said his mother, Mrs Daisy Bailey.