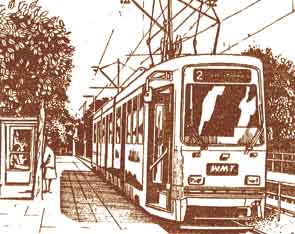 Artist's impression of the Metro

An ambitious 300 million plan to equip the West Midlands with the Metro "supertram" - vaunted as the most up to date public transport system in Europe - was given the green light in June.

The system was to be based on a modern version of the old trams.

It won overwhelming backing from the county council's Labour rulers following a three hour private meeting.

And county transport chiefs began a race against time in a bid to get the futuristic scheme off the drawing board before the county council system was dismantled.

The supertram was pencilled in to start in 1986 - the year the council was to disappear - and detailed design work was scheduled to get underway in 1984.

The plan took two years to assemble at a cost of 100,0000 with experts studying a dozen traffic "corridors" with Birmingham at the hub.

The "corridors" included West Bromwich, Sutton Coldfield, Kingstanding and Chelmsley Wood in the first phase of the plan.

The go-ahead was a personal triumph for Wolverhampton councillor, Phil Bateman, the left- wing chairman of the council's public transport committee.

He had spent nearly an hour selling the system to the Labour group.

But in the event, the Midland Metro was not to come on track for another 15 years - in 1999 when it began running between Birmingham and Wolverhampton.

Police tight lipped over probe: A "hush-hush" police investigation involving several West Midlands detectives was completed in April with no recommendations for criminal actions.

The probe was carried out by senior officers from the Avon and Somerset force and was launched the previous year following a tip-off.

But West Midlands police were keeping tight-lipped over what the investigation was about or how many people were involved.

A spokesman said no criminal offence had been disclosed and therefore the papers in the inquiry had not been sent to the Director of Public Prosecutions.

But he added that although criminal action had been ruled out, officers may still face internal discipline.

During the five-month inquiry investigations were based at police headquarters in Birmingham.

Traders seek help against raiders: Desperate Wolverhampton traders demanded police protection against mobs of youths plundering town stores in highly organised shoplifting raids in April. Staff said they could only watch helplessly as the 30-strong gang looted clothes and electrical goods. The gang swooped on the town at weekend peak shopping times.

Police break up gang of swindlers: Police posing as delivery men broke up a gang of swindlers who netted nearly 4,000 worth of goods from television rental companies in June.

The gang used false names and addresses and obtained video recorders and televisions on hire, which they immediately sold, Birmingham crown court was told.

Police, posing as delivery men, delivered goods to one of the five defendants.

When she used a false name she was arrested along with the others. All the defendants were jailed for handling or deception offences.

Rocking away down at the club: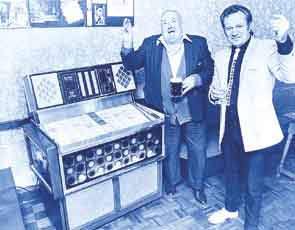 Tom Martin (left) and Eddie Hicks get hip to the beat . . . or something like that
The music of the fifties and sixties popped back into fashion with pop-pickin' players at Wolverhampton bowling club in June as a red and purple jukebox churned out the songs of yesteryear. The music machine also raised a few eyebrows at Penn Bowling Club - for never in its 72 years had the club ever allowed pop music to be played. That was before showman, Eddie Hicks, arrived with his jukebox. Then the regulars decided they wouldn't dream of being without the jukebox which got their feet tapping with its renderings. One member, Tom Martin, aged 61, was an avid fan and headed for the machine every lunchtime and evening. Eddie, aged 44, from Wednesfield, had a collection of 17,000 fifties and sixties tunes and changed the records on the jukebox every fortnight.
Ambushed! A solicitor ran through Wolverhampton town centre covered in blood after a knifeman slashed open his right hand.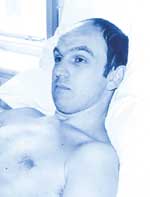 Hugh Howard's thumb and palm were ripped open as he tried to fight off the attackers who pounced on him in Cheapside in August, grabbing his briefcase. The assault left him with severed tendons and nerves.
Shoppers watched in horror as 32-year-old Mr Howard ran by, spurting blood and yelling for help.
Moments before Mr Howard had called at a town centre bank to exchange £160 in travellers cheques after a family holiday. His attackers ambushed him nearby and Mr Howard, of Jesson Road, Walsall, put up a fierce battle to hang on to his briefcase.
"One of them started kicking me kung-fu style about the body," said Mr Howard from his hospital bed.
"There was a sharp, stabbing pain in my hand and I let go. I ran all the way to Red Lion Street police station spurting blood. I kept shouting for help but people just stood and watched me." He said.