The arrival of new owner Terry Ramsden (left) meant the end of the road for Alan Buckley
Walsall FC's manager Alan Buckley and coach Garry Pendrey were sacked within 90 minutes of millionaire Terry Ramsden's takeover of the club.

Former Bishops Stortford boss Tommy Coakley was appointed new manager and Bristol City defender Gerry Sweeny given the job of coach.

The shock announcement came after the new owner had said the managerial position was to be discussed.

The outgoing partnership had just signed new one-year contracts with the then Third Division club.

A disappointed Mr Buckley maintained they had built two good teams at Walsall, one which had taken them to the Milk Cup semi final two years before and one which had finished sixth in the division.

Chimp books said to cause offence: Head teachers in Sandwell were asked to withdraw a series of children's books about cartoon chimps because they were thought to be racially offensive.

Education director Gerald Brinsdon made the request after being contacted by the borough's community relations council.

The council had written to publishers Longmans, complaining the caricatures were racially offensive.

The letter said that in a society where black people were frequently the butt of jokes about monkeys, baboons and bananas, it was "insensitive and even potentially dangerous" to portray images of chimps in children's books.

Sandwell's education officer said there was no suggestion the books were deliberately racist, just that some people could be offended by them.

Marathon fails to go distance: The Wolverhampton marathon was declared invalid after an investigation revealed the course was short by nearly half a mile.

Four days after the race, almost 5,000 runners learned they had completed 732 yards less than the full marathon distance.

The first man and woman home were stripped of their course records and several minutes had to be added to finishers' times.

Organiser Billy Wilson apologised for the mix-up which he said arose because a marshal had not been in place to direct the lead car down Bellamy Lane in Wednesfield.

His phone had been jammed with callers, many of whom had been sobbing, he added.

"I shoulder all the blame - but when you are working with a volunteer force, you rely on them to turn up and do the job on the day," he said.

Tim tries it with a Tipton touch: Timothy Spall, the actor who made his name playing a Black Country builder in Auf Wiedersehen, Pet, appeared in a play at the Birmingham Rep.

The actor won the hearts of Midlanders with his portrayal of Barry, the homespun philosopher.

The character was originally scripted as being Brummie but Tim and his Hednesford-born wife had other ideas.

Said Tim: "The accent I went for was not Birmingham, which is a bit short and urbanised, but Tipton which is a very colourful sound."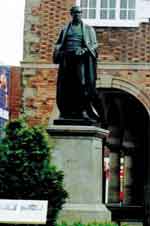 Sir Robert's brush-up: The statue of a 19th century prime minister was attacked by a 20th century condition - acid rain - and had to be hauled away for an 8,000 clean-up. The bronze figure of Sir Robert Peel was removed from Tamworth town centre where it had stood for 134 years. It was missing for several weeks while interior surgery was carried out on corroded ironwork.