Attack victims - Sir Peter and Lady Betty Terry
Shockwaves ran through the Midlands in September following a horrifying IRA gun attack on Air Chief Marshall Sir Peter Terry at his Staffordshire home.
Doctors revealed that it was impossible to tell how many times the former Governor of Gibraltar had been shot - but he had received at least nine bullet wounds.
And medical experts were amazed that Sir Peter survived the night attack by a cowardly lone terrorist who gunned him down as he sat reading in an armchair at his home in Milford, near Stafford.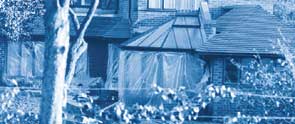 Scene of the attack, the Terry home


The would-be assassin left his 63-year-old victim for dead and one of the powerful bullets pierced an interior wall of the detached house, hitting his wife, Lady Betty Terry, near the eye.
The couple's daughter, Liz, was found suffering from shock.
The terrorist's gun shattered Sir Peter's face and two high-velocity bullets lodged a fraction of an inch from his brain.
Another bullet, fired through the window, devastated his mouth and jaw, while a fourth lodged in his leg.
Surgeons who operated on the retired RAF chief said that "countless" bullet fragments riddled Sir Peter's body and many would remain lodged for the rest of his life.
They said his face would have to be rebuilt over months of complex and painful plastic surgery.
A five hour operation was carried out at Stafford District General Hospital, after the attack. Doctors described Sir Peter's condition as "satisfactory and stable" despite his appalling injuries.
His children, Liz and Stephen were at their father's bedside and his wife was also receiving treatment.
Police guards were posted in the hospital foyer and the intensive care unit.
Police said that, so far, no one had claimed responsibility for the attack, but they were convinced it was the work of the IRA.
Sir Peter had been a prime target for terrorists since his days as Governor of Gibraltar, where he signed the documents allowing the SAS to pursue - and ultimately kill - three IRA terrorists.
The revenge attack took place about 9pm at the Main Road house as Sir Peter read a magazine.
The gunman crept up to a window and opened fire with a semi-automatic pistol.
Jane lucky to evade Saddam's troops: Wolverhampton air hostess Jane Thomas arrived home safely in September to tell of her nerve-wracking journey round the crisis-hit Gulf dodging Iraqi troops.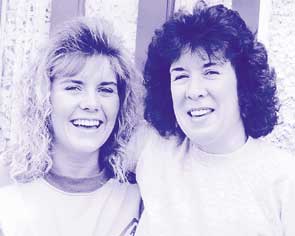 Safe: Jane Thomas is hugged by her mum Wendy


The 20-year-old disguised herself as an Arab to escape Saddam Hussein's army as she and friends battled round Kuwait in blistering heat as fugitives - with little food, water or washing facilities.

The party tried desperately to avoid soldiers and police, fearful that they would be taken hostage at gunpoint. Jane had managed to fly back to Heathrow hours earlier and was spending time at the home of her mother, Mrs Wendy Lindley, in Bradmore.

She had been working in Kuwait and was forced to leave behind her stepfather, Cliff Lindley, who was also working there when the invasion began the previous month.

Jane said that when rumours of the invasion first spread she did not believe them. But then she saw soldiers and tanks on the streets of Kuwait City. She said she heard that people were being rounded up so she decided to escape with some friends. "We covered our faces with black veils to make it look as if we were natives and travelled round the country. First we headed for the Saudi border, but we heard some friends had been picked up there, so we headed back.

"We were finally told to make our way to Baghdad, and we managed it after a long journey. It was very hot and we had very little to eat and drink," she went on. She said they eventually got to Baghdad and from there flew to Heathrow. "When the plane took off and landed the whole plane was just crying and screaming with relief," said Jane.

Walsall to benefit from fall of the wall: Walsall councillor, Dick Worrall, decided to auction off pieces of the Berlin Wall in December to raise cash for new facilities for the town's unemployed.

Councillor Worrall had about 50 chunks of the graffiti-covered Wall, which had been recently opened in an historic move to allow free travel across the frontier.

He was having earrings made out of the smaller pieces of brick, which he brought back from Germany.

"It is terribly moving to see the Wall opened. The first time I was in Berlin was in 1963, so I have never known it without the Wall," he said.

The councillor said he intended to use the money raised on the auction to help with the cost of converting council garages into workshops and community facilities in Whitehouse Street.

College blocks film showing: In June, students at Wolverhampton's Wulfrun College were banned from showing a controversial film about the death of Clinton McCurbin who died three years previously in police custody.

The college's Students Union had planned to screen Black and Blue at its headquarters in Paget Road.

The award-winning film highlighted events surrounding the death of the black Wolverhampton man.

But union committee members said they had been banned from showing the film by college principal, Dr Ken Mothersdale.

The union said the principal felt the film was too political and might cause trouble.

Mr McCurbin died as police tried to arrest him in a Wolverhampton town centre shop, where he was suspected of using stolen credit cards.

The 25-minute film was said to be highly critical of police attitudes towards black people.