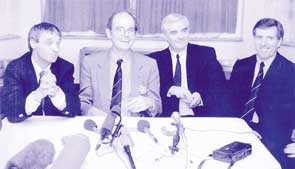 Three of the released Birmingham Six, Paddy Hill, Billy Power and Gerry Hunter with MP Chris Smith.

In March, the Birmingham Six who had been jailed for the 1974 pub bombings were freed after their convictions were quashed by the Court of Appeal.

At their original trial, which lasted more than 50 days, the six faced what looked like a rock-solid case based on forensic and circumstantial evidence, as well as some confessions.

But the men claimed the confessions had been beaten out of them by West Midlands Police - and the forensic tests were debunked.

The first Appeal Court hearing rejected their case out of hand. But by 199l the weight of new evidence made the convictions unsafe.

Family barge in on Charles visit: A family enjoying a West Midlands canal cruise sparked off a big security scare in May when they barged in on Prince Charles as he made an official visit to Wordsley.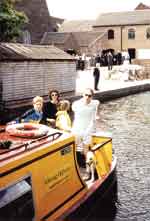 The alert came during the Prince's visit to the Redhouse Glass Museum. The family's barge sailed gaily into view alongside a quay yards from where Charles stood chatting to trainees.

Anxious special branch officers immediately closed in on the vessel and began quizzing those on board - a couple and their three children.

Only after the family had satisfied the Prince's bodyguards that they had no idea about the royal visit were they allowed to continue their journey.

The incident happened on a spur of the Staffordshire and Worcestershire Canal, behind the museum, which had been renovated by apprentices under the Prince's Trust scheme.

Later, the canal cruisers, John and Sandra Potter and their children, from Hampshire, spoke of their surprise at rounding a bend to see Prince Charles standing on a towpath.

"The last thing we expected to happen when we set off this morning was to be rubbing shouders with a member of the Royal Family," said Mrs Potter.

A bit of a 'mare for the mayor . . . Councillor Alan Davies, Mayor of Walsall, said he only wanted a quiet life.

But by the end of his mayoral year he he had outraged Tory councillors and old soldiers by banning the National Anthem at his civic dinner, and been branded a hypocrite for welcoming Princess Diana to the town.

He remembered the late princess.

She certainly remembered him. For as she approached the first citizen of Walsall in October 1991, the Mayor whipped out a camera and snapped her.

"That's a first," she observed.

Recalled the mayor: "I told her, 'I'm only doing this job for 12 months'. She whispers 'I've got a few years to do yet'."

Alan Davies had another strained royal encounter, beginning a conversation with Princess Anne about how he had helped make the cutlery for Prince Philip's yacht.

Suddenly, to his horror, he realised he had forgotten her father's name.

"Anyway, you know your dad . . . ?" he went on, wishing the earth could swallow him.

Baby blues for pensioners . . . A Smethwick couple should have been over the moon when they were told by a housing officer in September that they could soon be moving into a new dream home.

But the news gave them the baby blues because a condition was that they had to have a child first - and they were both in their 70s.

George Milligan, aged 75, and his wife, Mary, aged 74, of Lowry Close, were stunned by the official's advice. "There's no chance of us having a baby at our age and in our condition," said Mary.

The unusual advice followed the couple's request to Sandwell Council for a new home. "A housing officer said if we wanted to become a higher priority case we'd have to have a baby," she added. "I can hardly walk and George has problems of his own. It's heartbreaking."

Late bid for privacy . . . An elderly Wolverhampton woman who left more than 400,000, gave instructions in her will that - in a bid for privacy - only one person should attend her funeral in May.

Phyllis Margaret Binns, who was in her seventies, had no surviving relatives and insisted that friends should not be told of her death.

Miss Binns, who lived in Newbridge, didn't want her death made public and donated her clothes to the WRVS in Tettenhall, Wolverhampton.

Two pairs of antique baby boots went to the children's museum in Bethnal Green, London, and 50,000 to Henley-in-Arden United Charities in the Warwickshire village she regarded as her home.

Most of the estate went to charity.