Wolverhampton war veterans were up in arms in June after town council chiefs revealed that they had no plans to mark the 50th anniversary of the D-Day landings.

As Labour Council leaders blamed the previous administration for the oversight, ex-soldiers complained that to ignore the Normandy landing anniversary was "absolutely deplorable."

They roundly condemned the council for causing "huge disappointment" to war heroes and their families.

The council's Labour leader, Norman Davies, said he was disgusted that the outgoing administration had planned nothing to mark D-Day.

"It is disgusting that the ex-service people of this town will not have the opportunity to pay tribute to the war dead on this anniversary," said Councillor Davies.

Neville Collins from the Royal British Legion, said: "All we wanted was a simple service or small reception.

"If smaller towns like Tipton and Dudley can manage it why can't Wolverhampton ?

Everybody is bitterly disappointed that no attempt is being made to officially remember those who gave their lives to help preserve our way of life."

Paul Allen, secretary of the district branch of the Parachute Regiment Association, thought the council had acted "terribly" by doing "absolutely nothing about this anniversary."

Meanwhile in West Bromwich they were gearing up for a trip down memory lane to the war years at a local community centre.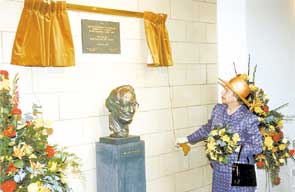 The Queen unveils a plaque at the newly re-developed Molineux
June 24. Tens of thousands of flag-waving Black Country people turned out to give the Queen a huge welcome during an historic day-long visit to Walsall, Dudley, Sandwell and Wolverhampton.
In Walsall she opened the town's 1.5 million probation complex and became the first monarch to visit Dudley Castle since Elizabeth I sat down to dinner there in 1575.
The Queen also visited the headquarters of Tipton City Challenge in Sandwell.
In Wolverhampton she attended a millennium service at St Peter's Collegiate Church before unveiling a plaque marking the church's foundation and walking across to the civic centre, receiving armfuls of flowers en route.
She also visited the new 15 million Molineux stadium, where she was greeted by club president Sir Jack Hayward, manager Graham Taylor, the club's new 1.3 million signing Tony Daley and former Molineux favourite John Richards.
Sir Jack praised the Queen on her choice of hat which some thought was tangerine but he described as Wolves gold.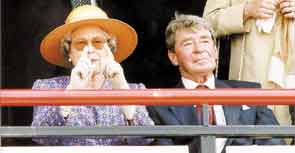 The Queen watches her horse, Set The Fashion, finish third in the 3.20 at Dunstall Park

At Dunstall Road Racecourse, the Queen unveiled a plaque to officially open the 13.5 million course, then watched her horse come third, ironically behind Royal Interval, in the Queen Elizabeth All Weather Stakes.

Wheechair-bound May Bircher, aged 84, form Ettingshall, who arrived outside St Peter's with hours to spare, said: "I've waited all my life for this moment. I never thought I would see her."

The Queen unveils a plaque at the newly redeveloped Molineux

Billy statue appeal launch: The Billy Wright statue appeal was kicked off in October with a mass collection outside Molineux.

The Wolverhampton public were urged to give generously to the 100,000 appeal to honour one of the town's most famous sons.

A team of 40 people armed with plastic buckets waited outside the stadium to gather money from fans attending Wolves' match against Port Vale.

It was the first opportunity for fans to contribute to the fund, launched jointly by the Express & Star and Beacon Radio.

Hundreds of pounds had already been donated, including two 100 cheques from the town' MPs, Dennis Turner and Ken Purchase.

Tour firm collapse leaves trippers in limbo: A Birmingham tour firm went bust in June leaving more than 600 Black Country day-trippers stranded.

Families from Walsall, Wolverhampton, Birmingham and Halesowen had paid 25-a-head to see Michael Barrymore in Blackpool.

But just an hour before they were due to set off, many received letters from Cambrai Tours saying it had gone bust and the trip was off.

Other would-be passengers were left stranded at pick-up points as news emerged that the firm had collapsed with debts of 75,000.

Caught out: The future of two teachers at a Smethwick school who allegedly had sex while pupils spied on them was being decided on by the Holly Lodge High School governors in July.

The teachers, who were both understood to be married - but not to each other - were supposedly caught in the act in an office and were later suspended indefinitely.

It is understood that up to 30 youngsters viewed the incident.