Mass murderer Frederick West was found hanged in his cell at Birmingham's Winson Green Prison on New Year's Day.
The 53-year-old builder was awaiting trial for 12 killings, most of them at his Gloucershire home, the so-called House of Horrors.

His wife Rosemary, who was charged with him, learned of his death whilst on remand in Bristol. Her lawyer claimed she was not upset or tearful.

A prison spokesman said West must have hung himself immediately after being checked in his cell in part of the hospital wing, as he was every 15 minutes.

His victims included Wolverhampton teenager Shirley Ann Robinson who was in the latter stages of pregnancy when she died.

The 18-year-old, ex-pupil of the former Old Fallings Secondary School, was last seen alive in 1978.

Storm chaos across region: Thousands of Midland families were left without power as gale-force winds and heavy rain battered the region, bringing down trees and flooding roads.

The storms brought chaos around the country and an end to Britain's Indian summer.

More than 5,000 homes were plunged into darkness in Kinver, Hednesford, Bewdley and parts of Worcestershire after debris from the gales brought down power lines.

Fallen trees blocked roads in Cannock, Telford and Dudley, including a 50ft tree which crashed down across Thorns Road, Quarry Bank, splitting in three as it landed in the grounds of The Thorns Primary School.

The AA reported they had thousands of calls for help.

Mark breaks down barriers: Proud Sedgley soldier Mark Campbell made history by joining the elite troop who guard the Queen - becoming the first black member of the Hosuehold Cavalry.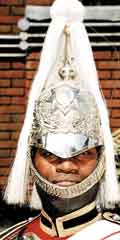 His success followed years of pressure - spearheaded by the Prince of Wales - to break down barriers and boost recruitment among people from ethnic minorities.

The 28-year-old former postman insisted: "There won't be any problems because I'm just seen as one of the lads here.

"It was a bit odd at first because if we went out on duty I'd wonder why people were staring at me," said Mark, a former pupil of Dormston School, Sedgley.

The new boy, who hoped other West Indians would follow his lead, made his first public appearance escorting the Queen during the VJ celebrations.

Centre a first for Brum: A new era in crimefighting began in the West Midlands in April with the opening of a centre which used state-of-the-art technology to trap Britain's criminals. Birmingham scored a major coup by being chosen as the location for the world's first national database for DNA - genetic fingerprinting.

Millions of genetic profiles were due to be held at the city's offices of the Forensic Science Service.

DNA has since increasingly been used to trap and convict offenders - many of them vicious sex offenders and murderers. The Birmingham database was then the only operation of its kind in existence and attracted the attention of lawyers, police officers and scientists from across the world.

Home secretary Michael Howard while touring the laboratory hailed DNA as the "twenty-first century equivalent of the fingerprint".

Noisy pubs give councillors a headache: Complaints about noise from pubs in Wolverhampton had reached record levels in October, a report revealed.

During a five-month period, one in 10 of the town's 240 pubs were the target of complaints from residents.

The main reason for the 45 complaints to the council was loud music. Councillors warned that legal action would be taken against pubs which persistently breached regulations.

Councillor Kathy Clifford, chairman of a sub-committee responsible for issuing public entertainment licences, said members intended to work with the police to crackdown on offending pubs.

The report stemmed from a campaign launched by Tory councillor Mrs Paddy Bradley. She declared war on noisy pubs after being inundated with complaints earlier in the year.

Big clean up on the canal: A major pollution alert was launched in August after 100,000 gallons of raw sewage flooded into the Stourbridge Canal.

Some of the sewage also reached the River Stour.

The clean-up operation began after a Severn Trent sewer burst at Stourton, near Stourbridge.

British Waterways Board, the National Rivers Authority and Severn Trent Water teams raced against time to prevent the pollution killing fish and other wildlife and the canal was closed to pleasure boats.

The Severn Trent main was shut off, but not before the stinking sewage had affected a 400-yard stretch of the canal from Wordsley Aqueduct towards Stourton.

Pleasure boats were redirected through Wolverhampton, Worcester or Birmingham, with BWB racing against time to finish the clear-up in what was the middle of the peak holiday season.