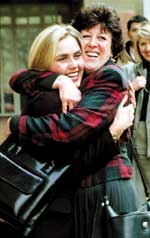 Lisa Potts and St Luke's head teacher Denise Bennett after hearing the verdict on Horrett Campbell
A wave of shock and horror swept thorough Wolverhampton in July as machete wielding maniac, Horrett Campbell, went on the rampage in a Blakenhall school playground where young children were enjoying a teddy bears picnic.
He laughed as he launched his attack on three children and four adults at St Luke's Infants school. Witnesses described how the 32-year-old-raider appeared at a school fence, leaned over and tried to grab a child.
He then leapt into the playground and started his savage attack.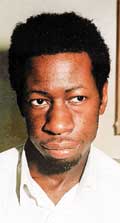 Twenty eight hours later Campbell (left) was being quizzed by detectives after being found hiding in a cupboard on the ninth floor of some flats at Villiers House, just yards from the school playground.

Campbell was whisked away under cover of a blanket as a jeering crowd gathered outside the flats. He was thought to have hidden in the building at Villiers House from the time of the attack until his arrest.

The heroine of the day was 21-year-old nursery nurse, Lisa Potts, whose bravery captured the hearts of the country when they heard how she tackled Campbell.

Lisa suffered terrible arm injuries as she attempted to protect her young charges who she tried to hide in some cupboards.

"I couldn't believe what was going on," she said later. "I was just really concerned for the children.They were hiding under my skirt, holding on to my legs and screaming my name."

She said she was desperately trying to open a door to get the children away but couldn't because her arm "was such a mess". She said it was the adrenalin that kept her going.

After a campaign to recognise Lisa's bravery, led by the Express & Star, she was awarded the George Medal.

Campbell was convicted on seven counts of attempted murder and ordered to be detained indefinitely.

Building a better image: A swearing ban was slapped on workers at a Walsall construction firm in July in a bid by their bosses to improve the image of the industry. And the firm concerned,

Kendrick Construction, of Tasker Street, were so keen to improve the image that they put a no swearing clause in the workers and sub-contractors contracts.

Kendrick's were carrying out several major contracts in the Midlands including 840,000 worth of work at the Express & Star's new 8 million West Bromwich printing plant.

Dennis Hislop, a director of the firm, which employed 200 builders, said: "We expect people to generally behave in a way which does not cause a nuisance.

"But I dare say if a carpenter hits his thumb with a hammer not swearing will be the last thing on his mind."

The Federation of Builders welcomed the ban which they felt could only improve the industry's image.

"Most people have the idea of a man with trousers half-way down his backside when they think of builders," they said.

Red card for terrace swearing: Wolves scored with a special award in October for their campaign to cut-out bad language at Molineux by sending-off foul-mouthed fans.

In a bid to cut the course expressions Molineux stewards were issuing yellow and red cards to abusive spectators.

Fans who ignored at least two of the yellow card warnings and those who continued to use bad language faced being given the red card - and ejected from stadium as well as being suspended from future matches.

Their clean-up campaign made them the first football league side to be honoured by the Campaign for Courtesy, formerly the Polite Society.

To mark the occasion, campaign founder, the Rev Ian Gregory, of Newcastle-under-Lyme, handed a framed certificate to club officials at Molineux (right).

'Hag' outburst cost job: A loud-mouthed British Telecom directory inquiries operator who called a widow a "silly old hag" over the telephone in October was sacked after being traced through an investigation.

The customer, Mrs Dora Brewster, aged 78, of Bickford, near Penkridge, was left in tears by the operator's abuse.

His outburst came when she tried to get the phone number of a taxi company and gave the operator the name and address of the firm. He replied: "How do you expect me to find the number from that, you silly old hag." He then slammed the phone down.

British Telecom immediately apologised to the pensioner.

Slim chance: A woman driver who claimed at Wolverhampton magistrates court that she was over the permitted alcohol limit because she was on a slimming course was fined £400 in October.