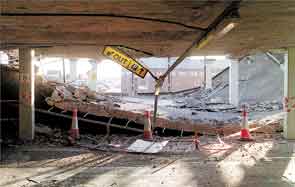 The scene at Piper's Row car park following the collapse

Just hours before Prince Charles was due to set foot in Wolverhampton on a royal visit in March, the multi-storey car park next to the Express & Star offices collapsed.
A structural fault in the eight level car park in Pipers Row caused about half of the the top level to fall to the floor below about 3am.
Police said if it had happened a few hours later, when the car park was open, people would almost certainly have been killed.
Despite the calamity, the Prince decided to carry on with his visit, much to the delight of people who lined the streets to catch a glimpse of him.
And Charles didn't disappoint them as he turned into Prince Charming and won the hearts of the locals.
The heir to the throne saw the work of his Prince's Youth Business Trust in action when he dropped in on Dave Painter who ran the Philadelphia Flyer bagel shop - started up with a Trust grant five years previously.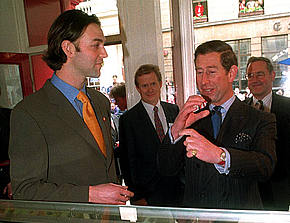 Wolverhampton businessman Dave Painter welcomes Prince Charles to the Philadelphia Flyer in Queen Street
The Prince chatted and joked with Mr Painter (pictured abovce) in the Queen Street shop and gave him the recipe for his own Royal bagel - "egg mayonnaise, and a little turkey."
A week later Mr Painter returned the compliment by creating a right royal bagel, in honour of the Prince's visit.
After touring the Express & Star headquarters, Charles was the special guest at Molineux where a presentation of the work of the Prince's Trust was given.
He made some new fans when he said he hoped that Wolves would soon reach the Premier League.
The Prince took the opportunity to urge more people to support his Trust and a street preacher and a bandleader became impromptu stars when they caught the Prince's eye during a walkabout in Queen Street.
He complimented town centre preacher, Ezra Dryden, on his bowler hat and spoke to David Gray, leader of the Wolverhampton Music School Brass Band, about the music the band had played.
Suddenly, a real chance to look at politics from the inside: This was a defining year for the UK Independence Party. Candidate, Derek Bennett, of Walsall recalls the rise of the party: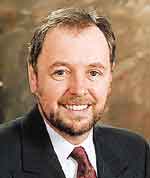 "It was after the signing of the Maastricht Treaty when I began to seethe.

"Our British democracy was under threat, we could no longer govern ourselves without referral to the EU.

"By the time Sir James Goldsmith came along with the Referendum Party I was primed and eager to be involved.

"After putting my name forward and attending a training course, I was selected as the Referendum Party candidate for Walsall North.

"Suddenly I was involved. It was a daunting feeling standing for election after all those years observing politics from the outside, now here I was preparing for election.

"I was lucky. I had the privilege of finding a good team of activists who worked extremely hard. For a single issue party such as the Referendum party, it was hard to gauge the sort of vote we would achieve.

"As we talked to people around Walsall North we knew most sympathised with our cause, but it was at the count on May 1, 1997 we saw the results - 3.3 per cent of the vote, 1,430 people in Walsall North had felt passionately enough about the subject to vote for a party which only offered a referendum.

"Many people said that Sir James, who was a dying man, had failed. Yet, nationally he not only achieved over 800,000 votes, he had begun something he would never live to see. He had given many of us a chance to begin to fight back, he had trained us in politics. I am not unique, I am one of the many who Sir James inspired.

"All over the country there are others like me within movements, some have gone to the Conservative Party and many others like myself have joined the UK Independence Party. It was Sir James Goldsmith who began our active political lives."

Man jailed for sex attacks: A Wolverhampton Council housing inspector was jailed in October for 12 years for sexually attacking three women while armed with a screwdriver.

The judge at Wolverhampton crown court told 33-year-old Thomas 0'Donnell that he considered him to be a "dangerous man".

The jury found 0'Donnell guilty on six charges, including kidnap and attempted rape. The court had heard that two of the offences had been against prostitutes.

He attacked them and a student in Wolverhampton - all within the space of a week.

He had terrorised his victims with a screwdriver, holding it to one woman's face and using it to intimidate her as he attempted to rape her.
Icy shock for
Stafford man

A terrified Staffordshire man was trapped for several hours in an icy bog of cow slurry in February after falling in while taking a short cut home. Sixty-year-old Raymond Heath suffered cold and shock as he lay trapped up to his waist in the slurry at Stafford. Eventually his cries for help were heard by a nearby homeowner who called the fire brigade.

Stafford sub officer, Brian Young, said the man had become so cold he was incoherent.

"He said he was taking a short cut home but he was very frightened and the cold was getting to him," said Mr Young, who added that if the man had been in the bog a couple of hours longer it was doubtful that he would have survived. Two firemen cut through a barbed wire fence and crawled to the trapped man, using mats. They pulled him from the mire in just ten miutes.

Schools' fear over offender: Schools across Wolverhampton were alerted in October about a sex offender who could be targeting children outside playgrounds. Youngsters were urged not to approach the man, whose description was circulated throughout the borough by the police.

Officers said the suspect was involved in an alleged "serious incident" with two young children in the town.

Some schools sent out warning letters to parents and Wolverhampton Council said every school in the borough should have been notified of the matter. The situation struck fear into parents and children alike. One parent said his daughter was frightened to go to school.

Tony Franklin, the head of Warstones Primary School, said he had spoken to his pupils and sent letters to parents warning them. It explained that a serious sex offender had been targeting young girls outside schools in the area.